De laatste dagen van de dracht had Sunny het er moeilijk mee. De dikke buik vond ze lastig. Ademde al wat zwaar, omdat haar volle buik met pups tegen haar middenrif duwde.
Op 25 december begonnen we te merken dat ze zich al langzaam aan het klaarmaken was voor haar bevalling. Ze zocht steun. Ze zocht ook haar rust op, ook al waren Dean en Leroy op bezoek (wat ze altijd superleuk vindt). Niet eten, veel poepen en plassen. Haar lichaam was zich klaar aan het maken.
En in de nacht begon ze inderdaad. Rond 2u 's nachts begon ze onrustig te worden. Iets na 3 uur ben ik met haar in de werpkist gaan zitten en om 3.18u sprong het eerste vruchtblaasje. Om half vier werd de eerste pup geboren. Het is bij een eerste bevalling altijd spannend hoe de moederhond het doet. Maar Sunny wist precies wat ze moest doen. De bevalling verliep heel goed. En iets na de middag werd de laatste pup geboren. 9 pups in totaal, 6 reuen 3 teefjes.
26 december 2015:
3:30u reu groen 378 gram
4:14u reu blauw 408 gram
4:15u teef roze 374 gram
4:27u reu grijs 366 gram
6:22u reu bruin 410 gram
6:39u teef oranje 466 gram
8:03u reu lichtblauw 428 gram
10:10u reu geel 428 gram
12:12u teef lila 346 gram.
Allemaal mooie gewichten.

Zoals al in een eerder blogpost is verteld, is het thema van dit nest Aiel (uit te spreken als EYE-eel). En de stamboomnamen hebben hier dus ook iets mee te maken. Welke namen bij welke pups horen, dat weet ik nog niet helemaal. Dat hoeven we ook pas te weten als ze de chip krijgen en de naam aan de pup wordt gekoppeld.
Alle namen krijgen als voorvoegsel Ji'e'toh. Dit is het belangrijkste uit het Aielleven. Ji'e'toh betekent Eer en Verplichting. Voor Aiel is eervol leven het allerbelangrijkste. Als je iets oneervols doet tegenover iemand anders heb je Toh (verplichting). De namen zullen dus bestaan uit Ji'e'toh + naam + Of Karo's Triangle.
De namen voor de reuen:
Car'a'carn: dit betekent 'Hij die komt met de Dageraad' en 'Chief of Chiefs', Hoofd der Hoofden. Een leider dus. In de boeken de persoon die de wereld redt. Dit is overigens de enige naam die al gekoppeld zit aan een pup, namelijk aan pup Lichtblauw, want toen hij geboren werd, werd het net licht buiten. Hij is geboren met de Dageraad.
Rhuidean: Heilige Stad in de Woestenij van de Aiel. Een stad ooit gebouwd door de Jenn Aiel (de ware Aiel) maar nooit afgebouwd. Stamhoofden en Wijzen moeten hierheen om een proef te doorstaan voordat ze hun taak op zich mogen nemen.
Algai'd'siswai: Dancers of the Spear. Dit zijn de Aiel Strijders. Siswai is tevens de naam van het paard van Aviendha.
Cadin'sor: betekent letterlijk "werkkleding". Dit is een specifieke outfit die Aiel dragen. Ik vind deze naam passen bij een reu met heel veel werklust.
Janduin: de leider van de Aiel tijdens de 'Aiel Oorlog'. Janduin leidde de strijd tegen Koning Laman omdat hij zeer oneervol tegen de Aiel was geweest.
Alcair Dal: The Golden Bowl. Een belangrijke ontmoetingsplek voor de stamhoofden van de Aiel.

De namen voor de teven:
Far Dareis Mai: Maagden van de Speer. Dit is de enige krijgsgenootschap van de Aiel voor vrouwen. Aviendha behoorde hiertoe voordat ze Wijze werd. Zij dragen de eer van de Car'a'carn en beschermen hem. Eens zien of er een teefje uitspringt die reu Lichtblauw beschermt :)
Avendesora: Tree of Life. Een Chora-boom in Rhuidean (de laatste). Chorabomen stralen een gevoel van vrede uit als je eronder door loopt.
Gai'shain: Those Sworn to Peace in Battle. Een belangrijk onderdeel in Ji'e'toh en is een manier voor Aiel om hun eer terug te krijgen.

Nu wordt het dus afwachten hoe de karakter zich ontwikkelen om te zien welke pup welke stamboomnaam krijgt :)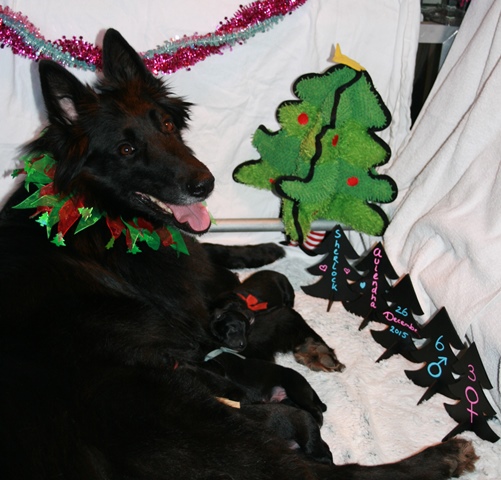 The last days of Aviendha's gestation were heavy for her. Her big belly was difficult for her. Her breathing was heavier because the puppies were pushing against her diaphragm.
On the 25th of December we started to notice that her body was readying itself for the birth. She looked for moral support with us. She rested a lot (which was extraordinary with two kids around that she adores). She didn't eat, she defecated and urinated a lot. Her body was getting ready.
And during the night she did begin. Around 2am she became restless. A little bit after 3am I sat with her in her whelping box and at 3:30am the first pup was born.
When a dog becomes a mom for the first time, it is always exciting to see if she is a good mother and if she knows what to do. And Aviendha knew perfectly what to do. The birth went perfectly. A little bit after noon the last pup was born. 9 pups in total, 6 males and 3 females.
26 December 2015:
3:30am male green 378 grams
4:14am male blue 408 grams
4:15am female pink 374 grams
4:27am male grey 366 grams
6:22am male brown 410 grams
6:39am female orange 466 grams
8:03am male light blue 428 grams
10:10am male yellow 428 grams
12:12pm female lilac 346 grams.
All very nice weights.

As mentioned in an earlier blog post, the name-theme of this litter is Aiel (pronounce as EYE-eel). Which puppy will have which pedigree name is unknown yet. Within 10 days we have to give the Kennelclub the pedigree names. When they get the chip implanted at six weeks, the pedigree names will be matched with a puppy. So this gives us a few weeks to match names with personality.
All names of this litter will get the prefix Ji'e'toh. Ji'e'toh means Honor and Obligation. Living an honorable life is the most thing for Aiel. When you do something dishonorable toward another person, you have Toh (obligation) towards that person. The names will be Ji'e'toh name Of Karo's Triangle.

The names for the males:
Car'a'carn: this means 'He who comes with the Dawn'. He is the Chief of Chiefs, the leader. In the books he is the person who saves the world. This is the only name that already belongs to a puppy, mister light blue. Because he is born at dawn.
Rhuidean: Holy City in the Aiel Waste. A city that was once build by the Jenn Aiel (the true Aiel) but was never finished. Clanchiefs and Wise Ones have to go to Rhuidean to complete a test before they can become clanchief or Wise One.
Algai'd'siswai: Dancers of the Spear. This are the Aiel warriors. Siswai is also the name of Aviendha's horse.
Cadin'sor: this means literally 'Work Clothing'. This is the outfit Aiel wear. I think this name suits a pup with a lot of will to please, to work for the owner.
Janduin:  the charismatic leader of the Aiel during the Aiel War. Janduin led the battle against King Laman. King Laman was very dishonorable against the Aiel.
Alcair Dal: The Golden Bowl. A very important meetingplace in the Waste for the Clanchiefs of the Aiel.

The names for the females:
 Far Dareis Mai: Maidens of the Spear. This is the only female warriorsociety of the Aiel. Aviendha belonged to them before she became a Wise One. They carry the honor of the Car'a'carn and protect him. Let's see if there is a female who protects puppy light blue :)
Avendesora: Tree of Life. This is the last Chora Tree which is in Rhuidean. Chora Trees emit a sense of peace to those who walk beneath the branches of the tree.
Gai'shain: Those Sworn to Peace in Battle. Gai'shain are an important part of Ji'e'toh and is a way for Aiel to get there honor back.
Now we only have to wait and see how their personalities develop and see which name fits which puppy :)