Op maandag 23 november, 4 weken na de dekking, had Sunny haar echo. En zoals we verwacht hadden: ze is drachtig. De puppy's plopte meteen het beeldscherm in. Kristel heeft er minsten 9 geteld, maar het was moeilijk te tellen want het was aardig vol in Sunny's buik :) Dat hadden we niet verwacht. Mama Nena heeft drie nesten gehad, gemiddeld 7 pups. En dat hadden we ook bij Sunny verwacht. Nu maar afwachten tot Kerstmis om te zien hoeveel pups het echt zijn.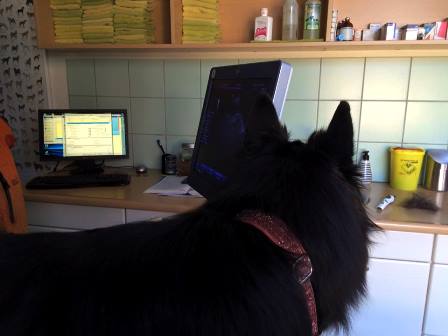 Met de 100% zekerheid van dracht, kunnen we ook eindelijk het thema van het nest vertellen. Zoals de titel al zegt: Aiel.
Sunny is geboren in het Rad des Tijds nest. Het Rad des Tijds is een fantasy-boekenreeks van 15 boeken, geschreven door Robert Jordan en mijn favoriete boekenserie.
Aviendha behoort tot de Aiel. De Aiel is een volk in de Wereld van het Rad des Tijds. In de Oude Spraak staat Aiel voor Toegewijd, wat te maken heeft met hun originele taak (dat verhaal ga ik niet geheel uitdoeken, daarvoor moet je de boeken maar lezen).
De Aiel is een volk dat leeft in de Woestenij, door hun het DrieVoudige Land genoemd. Het is een zeer sterk volk, soms wat pittig, met een apart gevoel voor humor (vinden de andere volkeren). De Aiel zijn ook zeer moedig en hebben een groot uithoudingsvermogen. Eer is heel belangrijk voor hun.
Dit zijn allemaal eigenschappen die ik verwacht en hoop terug te zien in de pups. Moedige, sterke pups.
Mocht je weer willen weten over de Aiel, lees de boekenreeks zou ik zeggen ;-) Of google het, dan kom je ook meer verhalen tegen over de Aiel :) De namen zullen natuurlijk ook te maken hebben met de Aiel, maar die houden we nog even geheim.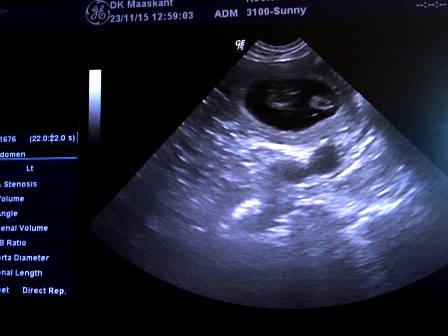 On Monday 23 november Aviendha had her ultrasound. And as expected, she is pregnant. The puppies plopped up on the screen immediately. Kristel (the vet) counted at least 9 puppies, but it was difficult to count because it was very crowded. We didn't expect so many. Aviendhas mother (Nena) had litters with 6 or 7 pups and we expected that with Aviendha too. Now we have to wait until Christmas to see how many puppies she will have.

With the 100% garanty that she is pregnant, we can tell the theme of the litter. This will be the Aiel-litter.
Aviendha is born in the Wheel of Time litter. The Wheel of Time is a fantasy book series, written by Robert Jordan and is my favorite bookseries.
Aviendha belongs to the Aiel.The Aiel is a race of people in the World of Wheel of Time. In the Old Tongue Aiel means Dedicated, which has something to do with their original task.
The Aiel live in a dessert, they call it the Three-Fold Land but by others it's called the Aiel Waste. The Aiel are very strong people, with a strange sense of humor. The Aiel are also very courageous and have a big endurance. Honor is very important for them.
These are all features I expect and hope to see in the puppies: strong, courageous dogs with a lot of power.
If you want to know more about the Aiel (and there is a lot more to know) I suggest you read the books. They are awesome! The names of the puppies will have something to do with the Aiel offcourse, but they will stay secret for now.