The Rhyagelle start their journey to come home...
Thursday night (16-17 March) Aviendha was very restless. She kept walking back and forth in the living room. Wouldn't lie down. Mom and I slept in the living room, because we thought labor might start that night. We didn't sleep a lot. With every sound we heard, we woke up because there might be a puppy on the way. But the contractions started at 8 o'clock in the morning. The delivery went very quick and very well. Four boys and three girls. The vet expected 8-9 puppies, but she apparently made a mistake (she was a new vet). 
These are the times of the birth and their weight. The second weight was yesterday evening. They are growing very good.
08:05 Male darkblue, 516 gram -- 612 gram.
08:32 Male green, 460 gram -- 560 gram.
08:44 Female orange, 418 gram -- 504 gram.
09:05 Male brown, 442 gram -- 522 gram.
10:11 Male lightblue, 408 gram -- 526 gram.
10:51 Female pink, 452 gram -- 538 gram.
11:07 Female purple, 472 gram -- 566 gram.
These are very big puppies at birth. Poor Aviendha. 
Very funny fact: Aviendha's first litter was born on 26 december. Which is a holiday here in Holland, it is Second Christmas Day. Which was also the birthday of one our puppy owners. This litter is born on St. Patricks Day (not an official holiday in Holland, but a holiday nonetheless). And it is the birthday of the owner of Aviendha's sister. What a coincidence.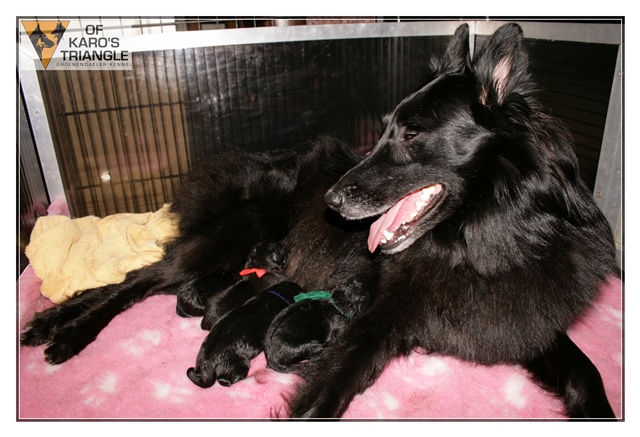 The Pedigree names
Well, the pedigree names. We have to send the form with the names to the Kennel Club within ten days after birth. The names are not partnered with a puppy yet, that will happen at 6-7 weeks when they get the microchip implanted. In the next few weeks I will find out which name fits which puppy best :) Offcourse this will only be their pedigree name. The new owners will probably create their own beautiful names for their pups, which is by the way, a big thing with Seanchanen. When they achieve something for the Empire or when they have done something good or bad, they go into a new fase of their life and that comes with a new name. The Daughter of the Nine Moons (heir to the throne) was named Tuon when her mother and Empress was alive and ruling. When her mother was killed, she first kept on the name Tuon. And therefore wasn't the new Empress yet. When she finally claimed her throne, she became Furtuona and Tuon was literally something from the past. If you bring a lot of shame to the Empire, they strip you of your title and give you a different name (a shameful one). So it is very fitting that these puppies get a new name when they finish their journey and come home :)
So, here are the names. I will put a short explanation with the names, but if you want to know more, read the Wheel of Time Books :D Maybe I should give book 1 as a present to all new owners, hahaha. They can buy the other 14 books :P

Boys:
Luthair Paendrag: son of Arthur Hawkwing (the High King). Founder of the Seanchan Empire. The Seanchan called him The Hammer.
Matrim Cauthon: my favorite male character in the series. Two ravens are his symbol. Mat is a funny guy, he enjoys life to the fullest (you know: drinking, dancing, gambling and women). He is a gambler and always has luck on his side. He marries the Daughter of the Nine Moons.
Sei'taer: Means: to have honor. This means you are an honorable person (very important for the Seanchans).
Furyk Karede: He is from the Deathwatch Guard (elite soldiers from the Ever Victorious Army). Has Raven tattoos. Is Tuons personal bodyguard. Tall man. 

Girls:
Fortuona Paendrag: the Empress of Seanchan. Dark and petite woman. Very demanding. Loves training animals.
Soe'feia: Truthspeaker to the Royal Family, required to tell the absolute truth, even if it something the Empress doesn't want to hear. This helps to restore balance.
Alivia: former Damane. She is the strongest channeler (of the One Power) alive. She is a quick learner and she is connected to the faith of the Dragon.
Belly is bigger then the ass...

It has been a week since the ultrasound. At the ultrasound, I weighed Aviendha and she lost 1 kilograms compared to the day she was in for her bloodtest (4 weeks before that). So I was a bit worried about her weight loss and her nausea. She kept her nausea a few days after the ultrasound. But now she is back to eating again :) So quite happy with that. I have to walk by the vet this week again to weigh her. 
This pregnancy she is a bit more lazy then the first pregnancy. Lazy makes it sound negative and I don't mean it a negative thing. The pregnancy just looks harder on her. Her first pregnancy she still wanted to train at this stage. Offcourse not as long as pre-pregnancy. But during the pregnancy I trained her Doghouse Trick Title. Fun thing to do, because agility and IPO was out of the question. My plan was to train for the second Trick Title during this pregnancy, but Aviendha has other ideas about that. Haha. 
All she does all day is sleep, haha. When she wakes up in the morning and we let her out of the crate, she immediately walks to her sleeping throne and start to sleep again. We have to tell her to go outside and pee. I mean, look at that picture... Pregnancy is exhausting.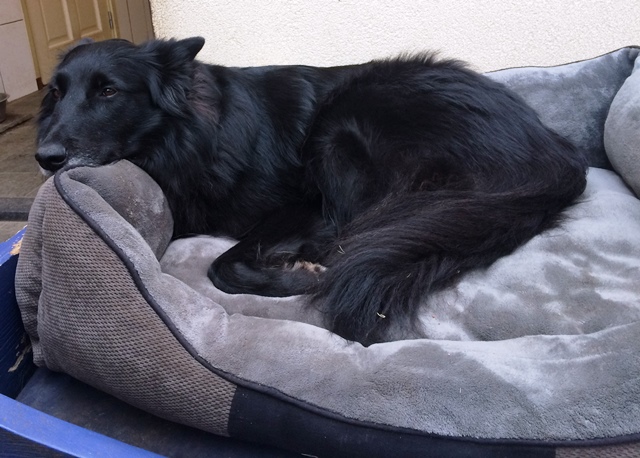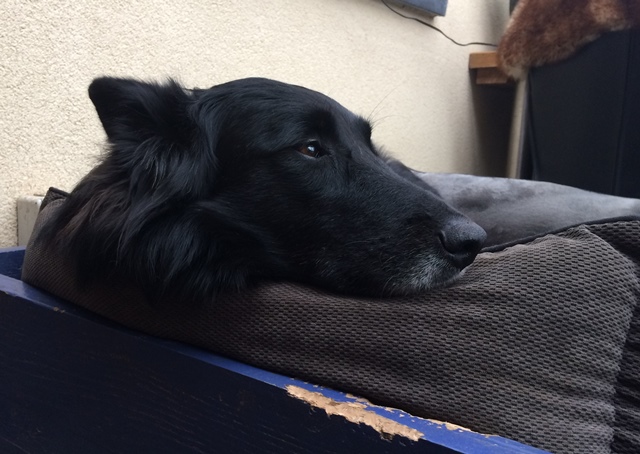 She still loves her walks though. They are just a bit shorter and we walk at a slower pace. Aw hell, for all we know she is making 11 puppies in her belly and a couple of them were hiding during the ultrasound. We just have to wait and see.
Here we are enjoying our walk and a nice view of Kasteelpark Elsloo.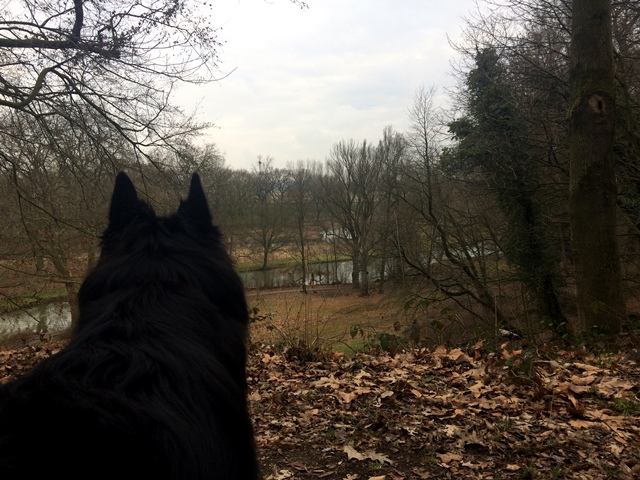 Today I was away all day for a workshop. And I swear her belly got bigger during the day. I made this video during our evening walk. It is a bit dark, but if you look closely, you can see her belly going from side to side. Her belly is starting to get bigger then her ass, that is a good sign :D
https://youtu.be/XPUawT1dTF4
Zo, dat is al ruim 7 maanden geleden dat ik voor het laatst gepost heb op de blog. De blog heeft er een tijdje uitgelegen. We waren natuurlijk erg druk met de puppy's dus we kwamen er pas achter na de  puppy-tijd. Eenmaal gefixed (het stond iets minder hoog op het prioriteitenlijstje, haha) duurde het weer even voordat ik toekwam aan een blogpost.
Maar goed, we zijn weer online. En het is weer tijd voor updates. In die 7 maanden is vanalles gebeurd en dus zullen er enkele updates volgen aankomende periode.
Allereerst natuurlijk het moederschap van Sunny. Op tweede Kerstdag is ze bevallen en Sunny deed het super. Haar moederinstinct deed meteen z'n ding. Tijdens de bevalling wist ze precies wat ze moest doen, bij de pups wist ze precies wat ze moest doen. De eerste dagen na de geboorte was ze erg waaks (wat ze normaal helemaal niet in). Maar ze blafte als er mensen binnen kwamen. Dat is dus iets wat ze nooit heeft gedaan en na die eerste dagen ook niet meer gedaan had. Overigens had ze er geen problemen mee dat de mensen de woonkamer binnenkwamen en de pups wilde aaien. Ze voedde en waste de pups goed. Vanaf dat ze vast voedsel mochten, ging ze ook eten opbraken. En dat heeft ze gedaan totdat de pups het huis uit gingen. Ze heeft ze gezoogd tot 10 weken (wat toch aardig lang is). 
Ik was van tevoren heel erg benieuwd hoe ze als moeder zou zijn. Want dat is natuurlijk niet volledig te voorspellen. Ik ging er vanuit dat ze wel op Nena zou lijken, daar heeft zij het immers van geleerd. En er waren ook overeenkomsten met Nena maar ook verschillen. Zo heeft Nena ook wel eten voor ze opgebraakt, maar Nena deed dat alleen in die eerste week dat de pups begonnen met vast voedsel. Nena heeft haar pups ook altijd voorgedaan hoe je moet graven en ik hoopte dat Sunny dat ook zou doen. Maar dat heeft ze helaas niet gedaan (al kan dat ook komen omdat het natuurlijk winter was en de pups iets minder buiten zaten).
Ik ben in ieder geval heel trots op Sun. Ze heeft een dochter mogen houden. Miss Purple is hier blijven wonen. Dus ze heeft er ook geen moeite mee gehad toen de pups weggingen. Dat ging natuurlijk geleidelijk aan, maar omdat er eentje bleef maakte dat het makkelijker. Binnenkort gaan we de stambomen naar alle pupeigenaren brengen, zodat we kunnen zien hoe alle broertjes en zusjes van Miss Purple zijn uitgegroeid. Het is in ieder geval heel leuk om te zien welke dingen uit Nena d'r lijnen komen en welke uit Fajah d'r lijnen :)
Wil je meer weten over de nestperiode en de pups? Dan kun je kijken op de kennel-site bij het Aiel nest.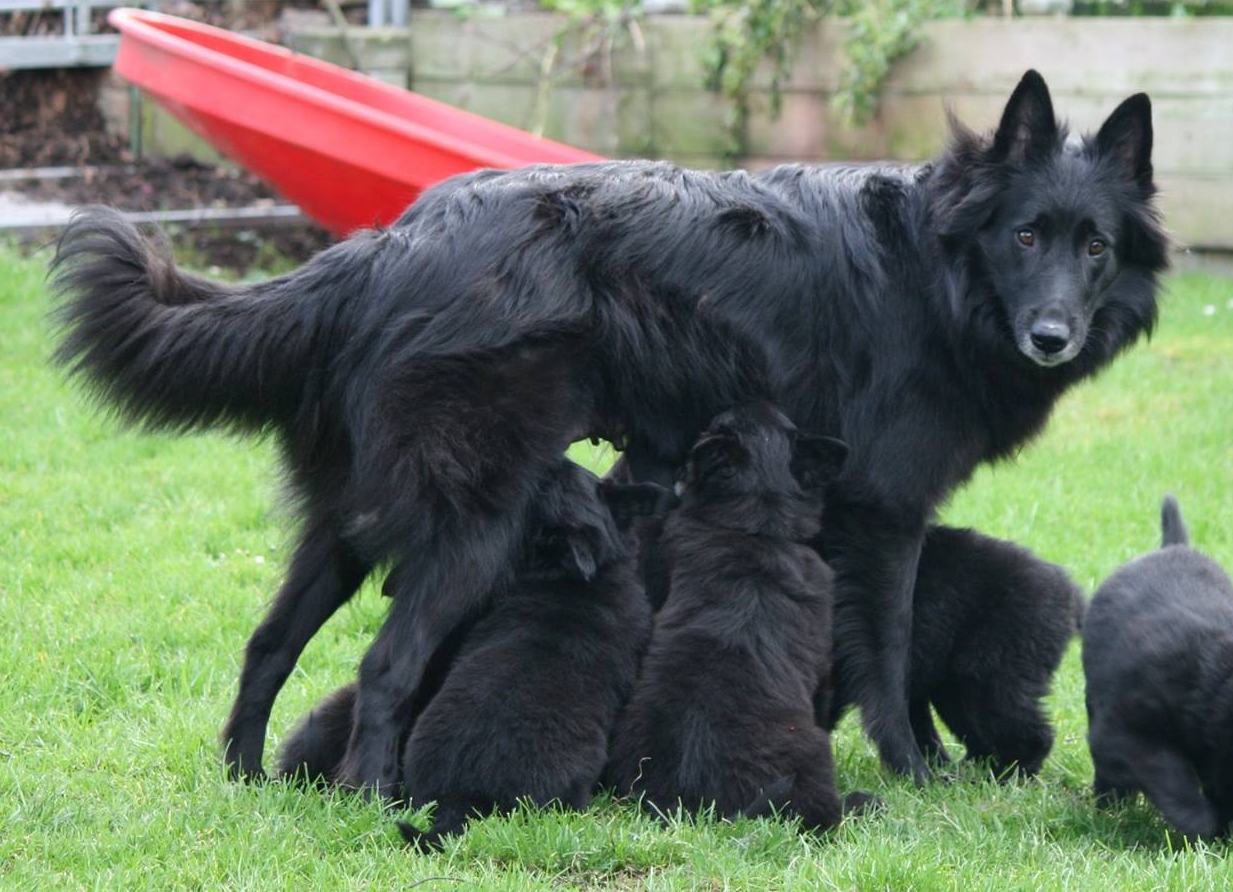 Daarnaast hebben Sunny en ik nog iets leuks gedaan tijdens de dracht en zoogperiode. In de laatste helft van de dracht en tijdens de zoogperiode hebben we geen IPO of agility getraind. Lichamelijk en geestelijk is dat zwaar voor een hond. Aan het einde van de dracht was ze niet eens meer in staat tot die sporten, haha. En tijdens de zoogperiode wilde ze ook niet lang weg bij haar pups.
Maar ik kon wel merken dat ze het trainen miste en de quality time samen. Dus deed ik wel iets met haar trainen. Korte sessies. Met iets waarvan het niet erg was als het langzaam ging of met minder power. We hebben getraind aan de tricks van de eerste Trick Title, de Uber Dude. Eerder meldde ik al dat Nena en Sunny samen de Warriors Title gehaald hebben. Nu heeft Sun dus gewerkt aan haar eigen titel. Sommige van die truucjes hadden we al op film staan. En enkele anderen hebben we tijdens de dracht en zoogperiode aangeleerd. De volgende Trick Title zal dus wel aan de beurt komen tijdens de volgende dracht, hihi. Klik hier voor het filmpje ervan.
Foto van Sunny met haar certificaat. Het is duidelijk dat Sunny de foto een beetje overdreven vindt, haha.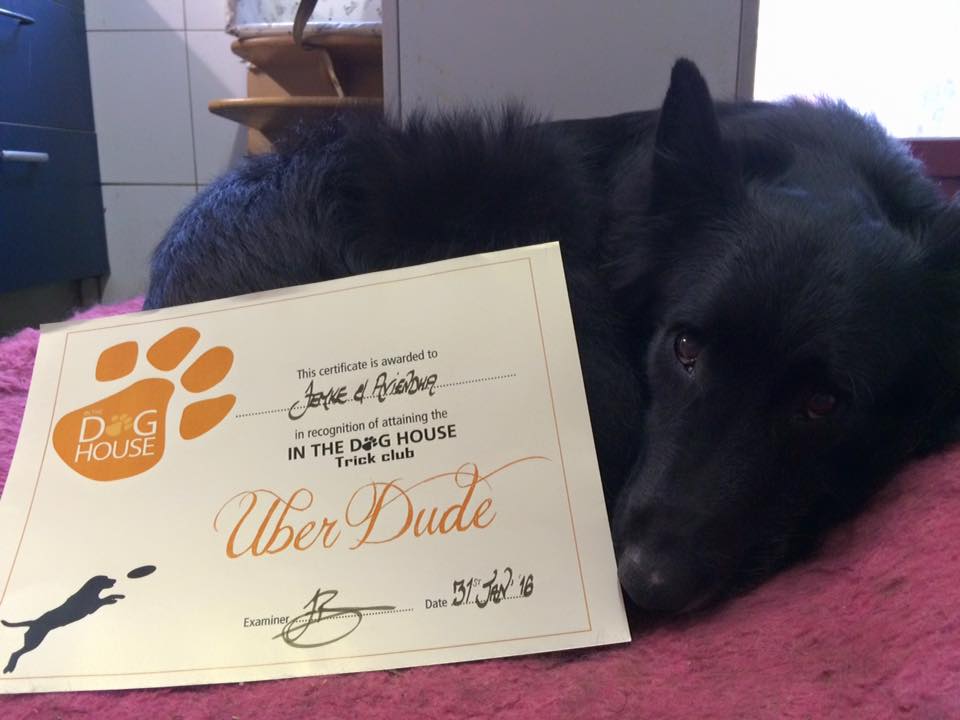 Ook hebben we, nadat alle pups het huis uit waren, weer eens een nieuwe foto gemaakt met alle roze spullen voor Pun. Want, zoals jullie weten, wil ik alles in het roze voor Sunny :) Pink isn't just a color, it's an attitude!! 
We hebben alles in het roze: verschillende riemen en halsbanden, verschillende soorten speeltjes, schapenvacht om op te liggen, clicker, apporteerblok, ipo-mouwtje, tuigen, zwemvest, jas, schakelketting (voor ipo-examen), showlijn (voor als ik daar ooit een carriere in wil maken), trainingstas, drinkfles, kam, balansdingen, speurlijn, verschillende soorten targets, gentle leader, mand, etc. Het enige waar we eigenlijk nog echt naar op zoek zijn is een roze stoffen bench in het juiste formaat (80cm). Dus als iemand iets weet, dan hou ik me aanbevolen, haha. En anders misschien toch de roze draadbench overwegen (is alleen zoveel sleepwerk, haha).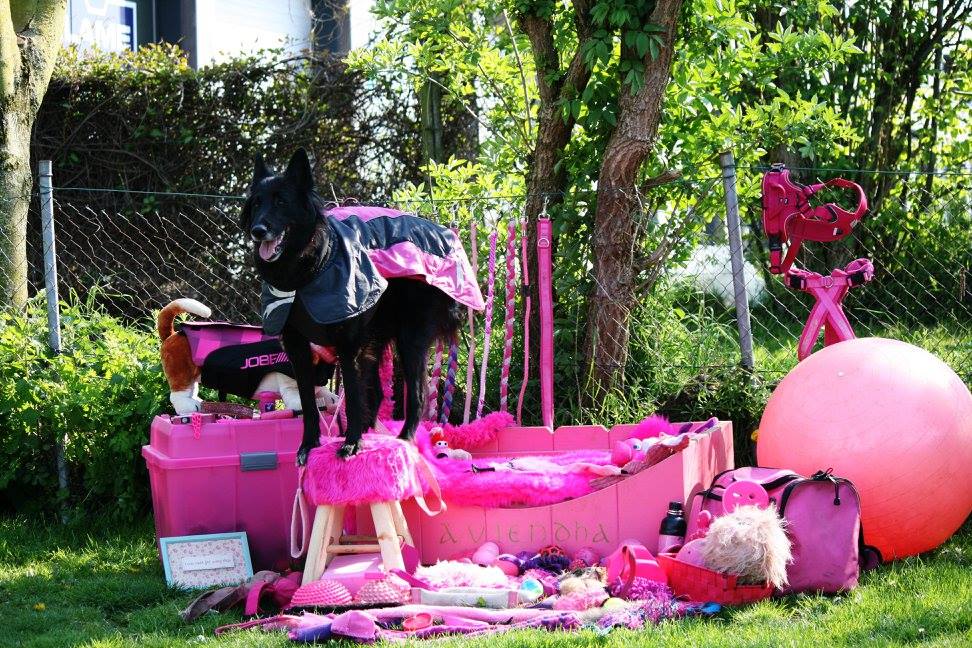 14 January Aviendha was mated with Raven. More about this combination and the parents can be read on our kennel website.
Aviendha was already showing signs of a pregnancy. Her belly expanded a little bit. She was sleeping a lot and very deep, just like she did the first pregnancy. She had her nausea days. But this week, she didn't ate a lot. And I even thought her belly was getting flatter. I was getting afraid she absorbed the puppies. Today we had the ultrasound, I was quite nervous. But thank god, the vet quickly said: "there is at least one puppie." 
So pregnancy confirmed. She counted 8-9 puppies. We made a bet at the mating, how much puppies and how many boys and girls. We have to wait who won the bet.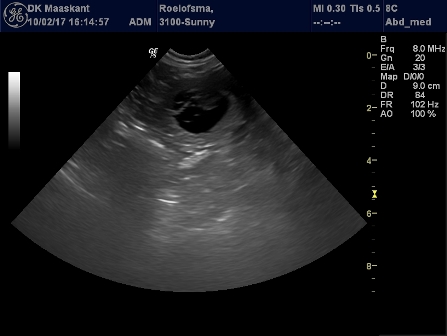 As tradition goes: when the pregnancy is confirmed, we also announce the theme for litter. We choose the pedigree names according to this theme (we have to register the names within 10 days after birth). The names will be announced after birth, obviously. But I like to talk about the theme. 

This litter will have a Wheel of Time theme again. For the people who don't know: Wheel of Time is a fantasy book series, written by Robert Jordan. One of my favourite book series. Aviendha is a character from these books and her first litter had a Wheel of Time theme.
So I was thinking about what theme. I like the Aes Sedai, but I was thinking if the theme couldn't be connected to Raven somehow. And yes, it can. Because there is a group of people in the Wheel of Time world that have a lot of Ravens as symbols in their culture. 
The Seanchan. They have The Prince of Ravens (the husband to the heir to the throne), they have the Tower of Ravens, Ravens and Roses are the sigil of the Emperial family, the Deathwatch Guards have Raven tattoos, and so on. So the theme was for sure something with the Seanchan :)

The reputation of the Seanchan in the books is not so good. They have a very strict hierarchy(too strict), the have slaves that they see as property, the hate the One Power (magic) and leash and control the women who can do this (and treat them worse as their animals). I, at first, kind of hated the Seanchan. But why this theme then?
Well, somewhere along the series, Tuon came along. And Matrim Cauton fell in love with Tuon. And if he can do that (one of my favorite characters), then why can't I?
It wasn't love at first sight with Tuon. But I do love her character. I love how strong she is. And even though she doesn't show it much, she is a loving person and very loyal.
The Seanchan have a strange way of showing their rank in the hierarchy (with hair en nails), that's funny. Honor is very important for them, once someone gives their word it is like a written contract for them (quite the same as the Aiel, Aviendha's previous litter). They are strong, very loyal.

A little bit of general information about the Seanchan: Seanchan (pronounced SHAW-chan) is an empire located on the continent of the same name.
A thousans years after the Trolloc Wars, after unifying the Westlands, Arthur Hawkwing sent a vast fleet led by his son, Luthair Paendrag Mondwin, across the Aryth Ocean. Luthair's fleet never returned to the continent from which they came, and was presumed lost. The fleet had actually made it across the ocean to arrive in Seanchan. By pitting the native nations against each other, Luthair and his descendants eventually subjugated and unified the continent into the Seanchan Empire, a process called the Consolidation.

The rule of Seanchan is provided by an Empress or Emperor who has absolute power. He or she reigns from the Crystal Throne at the Court of the Nine Moons, located in Seandar; the throne itself is a ter'angreal, inspiring awe and wonder of the person who sits on it. Below the Empress and those of her immediate family is the Blood, the noble class of the Empire.

The Seanchan have very strong beliefs in finding many omens in nature. While some of these omens can be passed off as mere superstition, it is unclear wether some of them have some basis to truth. They are a central part of Seanchan culture, with many Seanchan characters being shocked that people in the Westlands are unaware of such things.
What will be the theme of the litter? Rhyagelle
Rhyagelle is a word in the Old Tongue (Wheel of Time language) which means "Those Who Come Home". By the Seanchan it was used as the name of their main invasion force of the Westland (the land their Emperial Family originated from). I thought this was a good theme for the puppies, taken the point of view from the new owners of the puppies, they are coming home :)

Long story, but I love talking about my dog and about Wheel of Time. Haha. A nice video to finish this post.
https://youtu.be/_wkD9AwS3sw

De laatste dagen van de dracht had Sunny het er moeilijk mee. De dikke buik vond ze lastig. Ademde al wat zwaar, omdat haar volle buik met pups tegen haar middenrif duwde.
Op 25 december begonnen we te merken dat ze zich al langzaam aan het klaarmaken was voor haar bevalling. Ze zocht steun. Ze zocht ook haar rust op, ook al waren Dean en Leroy op bezoek (wat ze altijd superleuk vindt). Niet eten, veel poepen en plassen. Haar lichaam was zich klaar aan het maken.
En in de nacht begon ze inderdaad. Rond 2u 's nachts begon ze onrustig te worden. Iets na 3 uur ben ik met haar in de werpkist gaan zitten en om 3.18u sprong het eerste vruchtblaasje. Om half vier werd de eerste pup geboren. Het is bij een eerste bevalling altijd spannend hoe de moederhond het doet. Maar Sunny wist precies wat ze moest doen. De bevalling verliep heel goed. En iets na de middag werd de laatste pup geboren. 9 pups in totaal, 6 reuen 3 teefjes.
26 december 2015:
3:30u reu groen 378 gram
4:14u reu blauw 408 gram
4:15u teef roze 374 gram
4:27u reu grijs 366 gram
6:22u reu bruin 410 gram
6:39u teef oranje 466 gram
8:03u reu lichtblauw 428 gram
10:10u reu geel 428 gram
12:12u teef lila 346 gram.
Allemaal mooie gewichten.

Zoals al in een eerder blogpost is verteld, is het thema van dit nest Aiel (uit te spreken als EYE-eel). En de stamboomnamen hebben hier dus ook iets mee te maken. Welke namen bij welke pups horen, dat weet ik nog niet helemaal. Dat hoeven we ook pas te weten als ze de chip krijgen en de naam aan de pup wordt gekoppeld.
Alle namen krijgen als voorvoegsel Ji'e'toh. Dit is het belangrijkste uit het Aielleven. Ji'e'toh betekent Eer en Verplichting. Voor Aiel is eervol leven het allerbelangrijkste. Als je iets oneervols doet tegenover iemand anders heb je Toh (verplichting). De namen zullen dus bestaan uit Ji'e'toh + naam + Of Karo's Triangle.
De namen voor de reuen:
Car'a'carn: dit betekent 'Hij die komt met de Dageraad' en 'Chief of Chiefs', Hoofd der Hoofden. Een leider dus. In de boeken de persoon die de wereld redt. Dit is overigens de enige naam die al gekoppeld zit aan een pup, namelijk aan pup Lichtblauw, want toen hij geboren werd, werd het net licht buiten. Hij is geboren met de Dageraad.
Rhuidean: Heilige Stad in de Woestenij van de Aiel. Een stad ooit gebouwd door de Jenn Aiel (de ware Aiel) maar nooit afgebouwd. Stamhoofden en Wijzen moeten hierheen om een proef te doorstaan voordat ze hun taak op zich mogen nemen.
Algai'd'siswai: Dancers of the Spear. Dit zijn de Aiel Strijders. Siswai is tevens de naam van het paard van Aviendha.
Cadin'sor: betekent letterlijk "werkkleding". Dit is een specifieke outfit die Aiel dragen. Ik vind deze naam passen bij een reu met heel veel werklust.
Janduin: de leider van de Aiel tijdens de 'Aiel Oorlog'. Janduin leidde de strijd tegen Koning Laman omdat hij zeer oneervol tegen de Aiel was geweest.
Alcair Dal: The Golden Bowl. Een belangrijke ontmoetingsplek voor de stamhoofden van de Aiel.

De namen voor de teven:
Far Dareis Mai: Maagden van de Speer. Dit is de enige krijgsgenootschap van de Aiel voor vrouwen. Aviendha behoorde hiertoe voordat ze Wijze werd. Zij dragen de eer van de Car'a'carn en beschermen hem. Eens zien of er een teefje uitspringt die reu Lichtblauw beschermt :)
Avendesora: Tree of Life. Een Chora-boom in Rhuidean (de laatste). Chorabomen stralen een gevoel van vrede uit als je eronder door loopt.
Gai'shain: Those Sworn to Peace in Battle. Een belangrijk onderdeel in Ji'e'toh en is een manier voor Aiel om hun eer terug te krijgen.

Nu wordt het dus afwachten hoe de karakter zich ontwikkelen om te zien welke pup welke stamboomnaam krijgt :)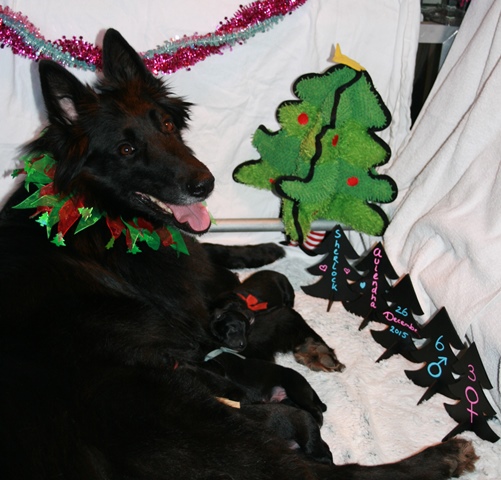 The last days of Aviendha's gestation were heavy for her. Her big belly was difficult for her. Her breathing was heavier because the puppies were pushing against her diaphragm.
On the 25th of December we started to notice that her body was readying itself for the birth. She looked for moral support with us. She rested a lot (which was extraordinary with two kids around that she adores). She didn't eat, she defecated and urinated a lot. Her body was getting ready.
And during the night she did begin. Around 2am she became restless. A little bit after 3am I sat with her in her whelping box and at 3:30am the first pup was born.
When a dog becomes a mom for the first time, it is always exciting to see if she is a good mother and if she knows what to do. And Aviendha knew perfectly what to do. The birth went perfectly. A little bit after noon the last pup was born. 9 pups in total, 6 males and 3 females.
26 December 2015:
3:30am male green 378 grams
4:14am male blue 408 grams
4:15am female pink 374 grams
4:27am male grey 366 grams
6:22am male brown 410 grams
6:39am female orange 466 grams
8:03am male light blue 428 grams
10:10am male yellow 428 grams
12:12pm female lilac 346 grams.
All very nice weights.

As mentioned in an earlier blog post, the name-theme of this litter is Aiel (pronounce as EYE-eel). Which puppy will have which pedigree name is unknown yet. Within 10 days we have to give the Kennelclub the pedigree names. When they get the chip implanted at six weeks, the pedigree names will be matched with a puppy. So this gives us a few weeks to match names with personality.
All names of this litter will get the prefix Ji'e'toh. Ji'e'toh means Honor and Obligation. Living an honorable life is the most thing for Aiel. When you do something dishonorable toward another person, you have Toh (obligation) towards that person. The names will be Ji'e'toh name Of Karo's Triangle.

The names for the males:
Car'a'carn: this means 'He who comes with the Dawn'. He is the Chief of Chiefs, the leader. In the books he is the person who saves the world. This is the only name that already belongs to a puppy, mister light blue. Because he is born at dawn.
Rhuidean: Holy City in the Aiel Waste. A city that was once build by the Jenn Aiel (the true Aiel) but was never finished. Clanchiefs and Wise Ones have to go to Rhuidean to complete a test before they can become clanchief or Wise One.
Algai'd'siswai: Dancers of the Spear. This are the Aiel warriors. Siswai is also the name of Aviendha's horse.
Cadin'sor: this means literally 'Work Clothing'. This is the outfit Aiel wear. I think this name suits a pup with a lot of will to please, to work for the owner.
Janduin:  the charismatic leader of the Aiel during the Aiel War. Janduin led the battle against King Laman. King Laman was very dishonorable against the Aiel.
Alcair Dal: The Golden Bowl. A very important meetingplace in the Waste for the Clanchiefs of the Aiel.

The names for the females:
 Far Dareis Mai: Maidens of the Spear. This is the only female warriorsociety of the Aiel. Aviendha belonged to them before she became a Wise One. They carry the honor of the Car'a'carn and protect him. Let's see if there is a female who protects puppy light blue :)
Avendesora: Tree of Life. This is the last Chora Tree which is in Rhuidean. Chora Trees emit a sense of peace to those who walk beneath the branches of the tree.
Gai'shain: Those Sworn to Peace in Battle. Gai'shain are an important part of Ji'e'toh and is a way for Aiel to get there honor back.
Now we only have to wait and see how their personalities develop and see which name fits which puppy :)